Crowlett Motto: A Crowlett always pays his debts
Cooper Motto: Pure-blood is thicker than water
MUST be at least Prestige 1 or Year 7 if you don't want to prestige.
Must not have had MAJOR bans, if it's something like raiding the GY months ago, I'm not going to deny your app.
DO NOT start fights within the family, if conflict occurs, you are to either resolve it peacefully or tell Marie or Chris.
Must be active in the community, if you're going a vacation for a period of time, let us know.
Follow the server rules. This should be a no brainer, but if you are banned, you may or may not be also kicked from the family.
Marie Cooper-Crowlett: Head of Cooper Family
Peaches Knight-Dragon: Marie's brother
Nuka Mercury: Marie's cousin
Chris Crowlett: Head of Crowlett Family/Marie's Husband
Marie Cooper-Crowlett: Head of Cooper Family/Chris's Wife
Milip Crowlett: 1st son of Chris and Marie (
Married to Kat Delaire-Crowlett
)
Selena Crowlett: 1st daughter of Chris and Marie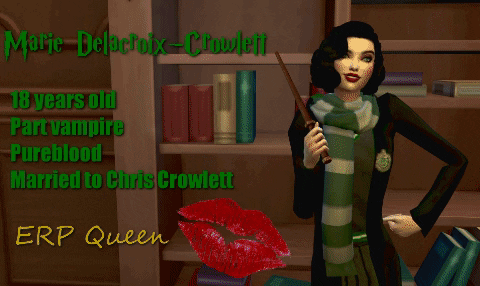 Joined Hogwarts RP on July 2017|Married Chris Crowlett on Dec 2017|Got VIP on April 2018|Became Trial Moderator on Dec 2018|Became Full Moderator on Jan 2019|Resigned on March 2019|Became a member of the Slytherin Council on Feb 2020|My Family
Expand Signature