Easter at Hogwarts
|
April 2021
For reading ambiance (what a banger):
---
Howdy, gamers, and
Happy Easter!
For the first time ever, the Easter Bunny will be hopping its way to Hogwarts! How eggciting?! We will be celebrating during this weekend only, and you'll be able to snag a limited-time event spell for the occasion. We dappered up the loading screen and filled Hogwarts and its surrounding areas with eggs. All basic student jobs will have a rabbit variant available to play during this time, while the V.I.P. student jobs have been equipped with an egg player model variant! Let's get right into the details regarding the event as a whole, as well as the limited-time spell.
---
We will be conducting an SBS holiday event during this time, a first of its kind, simply known as the Easter 2021 Event. From today until 11:59 PM CST on Easter Sunday, you will be able to participate in this event and collect the limited-time spell from the Easter Bunny. He's managed to hop his way just outside of Hagrid's Hut, where he should remain for the entirety of this event.
Once you make your way to Easter bunny, he will supply you with the limited-time spell known as "Bunearoculatia". This spell will only be available to obtain during this time and unavailable again until at least next year, but it's worth noting that there's no guarantee any event spells or wands will return. So
hop
on and get it while you can! This spell simply grows bunny ears from the head of your target, similar to that of Anteoculatia that produces deer antlers, showcased in the GIF below.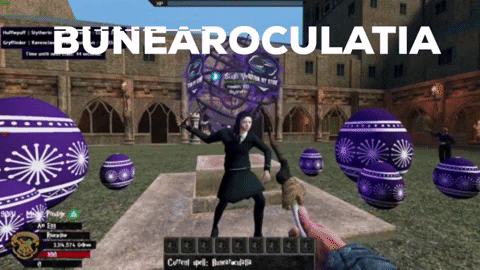 ---
If you'd like to indulge in a sneak peek of the Easter decorations and otherwise, I've taken the liberty of gathering some neat shots for you below. Enjoy!
Final Details
We are happy to bring you yet another holiday event, this time for a holiday that we haven't yet celebrated on the Hogwarts RP server previously. It's worth restating that limited-time holiday spells, wands, and other rewards are not promised to return in coming years, so if you miss out, there's a chance you could miss out for good. This event will conclude just before midnight CST on Sunday, April 4th. We hope you all have an eggcellent and Happy Easter!
Don't disrespect me, I'm your Dad.
"The best executive is the one who has enough sense to pick good men to do what needs to be
done, and the self-restraint to keep from meddling with them while they do it."
- Theodore Roosevelt 
Expand Signature