Your old content:
(1) What is your in-game name? - Eddie Betts 
(2) What is your steam ID (including any banned alt accounts)? -

STEAM_0:0:143704814

 
(3) What is the name of Admin/Staff who banned you? - Chocolate Frog @Sibyl
(4) How long were you banned for? - 12 weeks
(5) Have you been banned on any SBS server before? If so, approximately how many times? - I was banned for 6 hours around a week ago for nitrp and was banned for having the name mclovin last year
(6) Have you been banned within the last week? - 6 or 7 days ago 
(7) Why were you banned in this instance? (Explain in Detail) - I was banned because i was mad that the teacher
wouldn't
 listen to the spell i wanted to get, so i snatched the teacher and hung them from ceiling then logged off out of anger. 
(8) Do you think you deserved the ban? - I believe i d
eserved a few hours to a day ban not 12 weeks over something that effects a few seconds of gameplay 
(9) Why should you be unbanned? - i should be unbanned because i recently fell in love with this server and am planning to donate, I dont wanna have to wait 12 weeks just to play it again
(10) Have you learned your lesson from this ban? - Yes, i will not hang the charms
professor
 from the ceiling when he wont give me accio statum 
(11) Provide a Screenshot of the message that appears when you try to join the server: -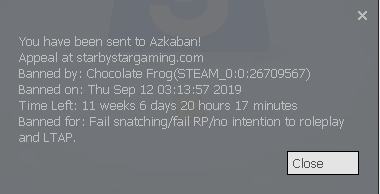 ---
Expand Signature