11-03-2019, 02:41 AM (This post was last modified: 11-20-2019, 05:26 AM by Nick Greengrass.)
(1.) What is your SteamID? - STEAM_0:0:88428788

(1a) What is your most recent in-game name? -
Nick Greengrass
(1b) What is your current year level in-game? (MUST be 7th to apply.) -
Max Prestige Max Year
(2.) What Timezone do you live in? -
PST but I play on the EU AU and NA Timezone
(2a) Please put what times you are most active in CST (Chicago US), so the managers know when they can expect to see you. -
AU and EU. Sometimes NA (3PM-7AM CST)
(3.) How old are you? -
18
(4.) When did you first join our server and how did you discover it? -
May 2018. I used to play on a DarkRP server and one of my friend's friend asked if I wanted to play Hogwarts RP and I said sure and I enjoyed it so I stuck around and I'm still here
(4a) How can we be sure you will stay active and loyal (with your time) to Star by Star? -
Because I connect every day and spend about 5-15 hours on the server. I'm a dedicated player and I love the server and it's player base. I've gotten to know the community in my 1 and a half years of being hear and I love spending time here with everyone
(4b) Do you understand you can be let go at ANY time for inactivity? -
Yes I understand that I need to maintain activeness on the server 
(5.) Do you understand and agree to not only comply with but also enforce the rules of the Server when necessary? -
Yes I understand that I need to enforce the rules 
(5a) When listing the rules please explain what they mean to show that you understand them.
 List Rules below:
1: No FailRP:
No FailRP means that you shouldn't be doing anything that your character wouldn't do in an actual situation. Some examples of FailRP are fail teaching (not teaching the subject they are not supposed to), Not playing the role you are on correctly (if you're playing an auror you have to attempt to stop snatchers who are snatching), Breaking NLR (return to your point of death), and Free Spelling as an unarrestable job (Teacher, Auror, Prefects)
2: No Disrespect/Hate Speech:
No Disrespect means that you should treat people nicely, don't be mean to them for no reason. This includes running up to them insulting them on a personal level or just being straight-up rude. (It's ok if you keep it on an RP level like saying you're aim is bad or calling them a bad prefect) just don't let it become too excessive. No hate speech on the server is pretty obvious it means don't use offensive or derogatory terms that could offend someone on the server.
3: No RDM:
No RDM means that you can't kill people for no reason meaning that you have to have a valid reason behind your kill whether it's stopping people who are trying to rescue your snatch, killing a revealed dark force, or killing an animal that attacks you. One other rule that falls under this category is no Attempted RDM or ARDM.which means that you shouldn't be damaging people or animals without a reason. (just because you learned a new attack spell in DADA or got a new job doesn't mean you should be hitting people with those spells
4: Obey Staff and RP Leaders:
This rule is pretty simple it means that you should be doing what staff tells you to do. If you're doing something that you shouldn't like breaking a job rule and they tell you to stop you need to stop right away or it could lead to you getting in trouble if you continue to do it. Obey RP leaders means that if the person who is at the top of your RP leadership Tree
(https://i.imgur.com/oVmETe1.png) is giving you an order (that isn't breaking any server rules) you have to follow that order or it can be considered fail RP and then you could get in trouble. 
5: No Mass Freespelling:
No mass free spelling means that you shouldn't be casting spells on people without reasoning behind it. This rule is normally enforced by prefects on the server but most people don't know that if it gets to a bad enough level or a level where people are constantly just hitting people with spells to make them upset that staff will step in. To summarize this rule you can free spell to an extent like getting a prefect after you just don't annoy them to the point of them feeling like they need to report it in @ chat
6: No Metagaming:
Metagaming is using information that you wouldn't know or haven't obtained ingame. (AKA Using outside information to gain an advantage) An example of metagaming is telling people that someone is a snatcher when they haven't been revealed or if you're snatched you are giving your location away saying I'm snatched and being held behind QP.
7: No Mic Spam or Chat Spam:
These rules are pretty self-explanatory. No mic spam means that you shouldn't blasting loud sounds or music through your mic (unless you're in the ROR or asked to by staff for an event) if you are caught mic spam it can lead to you being muted for a whole class period or at worse a kick or ban. No chat spam means that you shouldn't be flooding people chat with messages. If you have a bind or are prefecting don't spam your binds to the point of people not being able to read their messages because it can get annoying and cause issues.
8: No-Fail Adverting:
This means that you should only be using advert for RP purposes. This includes activating PTS, Asking for prefects to come to your class, Selling/Buying a snatch, and putting people on DOS. Do not use advert for casual conversations or for questions you can use OOC or if you have a question for staff use @ chat.
9: No ERP (Erotic Roleplay):
No ERP means that you shouldn't be acting out sexual actions or inappropriate actions because there are younger people who do play the server who don't want to have to deal with that or they shouldn't be exposed to it here. Keep it at a pg - pg 13 level for the younger people who play on here 
10: No AFK or Map Exploiting:
No AFK exploiting means that you should not set up macros that keep you from getting kicked by the AFK system. The AFK system is in place so people can't farm their year levels and if you get caught abusing it you can receive a hefty ban. No Map Exploiting: No map can be made perfectly so there are bound to be bugs and glitches occasionally the important thing here is that if you find a bug or glitch you report it in @ chat or message someone so it can be fixed. If you use it to your advantage or spread it around secretly you can be held responsible for not telling anyone sooner.
(5b) Explain what the term "minge" means when referring to a player on the server -
A minge is someone who comes on the server just to ruin someone's day on it or break rules for the fun of it. There are a few types of minges there are rule breakers or the annoying minges. The rule-breaking minges usually just come on the server to break rules like mass RDA or mass RDM people just to get reactions and have "fun". Annoying minges are the ones who try to get under your skin and annoy you to the point of you wanting to disconnect from the server. The best way to deal with both is either avoid them or just don't let it get to you by that I mean just do your thing play how you normally play. 
(6.) Tell us about yourself and why you want to be staff on SBS? (100 words or less) -
The reason I want to become staff is that in the EU time zone and NA at some point it's prefect law and when that happens there are tons of people who break rules. These people ruin the fun for new people or people who are just trying to chill and it makes people not want to connect. The reason I want staff is so I can prevent people from breaking the rules or to keep the server off prefect law and make sure people are having a good time and can have a good experience on the server.
(7.) What do you feel you need to improve on the most? -
The thing I need to improve on the most is getting too involved with things. I've been working on it a lot and it's gotten better but at some points, I'll end up getting way too invested in something or taking a joke way too far which can lead to issues or problems that shouldn't even have happened in the first place.
(8.) How would having you on staff benefit our server and what sets you apart from the rest of the applicants? -
I would benefit the staff team because I am constantly on the server prefecting and reporting. I am also on a timezone where they are lacking staff members or need people to be staffing on. I am also familiar with how staffing on SBS works, I know almost all the rules by heart and if I don't know the rules I am willing to ask for help instead of just assuming and going off a guess. I've also staffed on Garry's mod servers in the past and I know how to keep a sit professional, efficient and making sure the problem is solved by the end of it.
(9.) Have you been staff/are currently on any other servers? If so, which ones? (List them if possible) -
Superior Servers DARKRP - Mod 6 months total
Superior Servers DARKRP - Trial Admin 2 months total
(10.) Have you ever been banned on any Garry's Mod/SBS servers? If yes, then please list when, how long, and the reason. - 
Star By Star Gaming 5-6 Months Community Ban
Star By Star Gaming 1 Week - RDM 
Superior Servers 12 Hours Staff Suspension
(If you have any concerns about these bans feel free to PM me on the forums and I will talk to you about them in the PM's)
(11.) Are the Server staff or the players more important? Why? -
The staff are the people who keep the server running by enforcing the rules and making sure people aren't going to break them and the player base is the people who connect every day and keep the server populated. If there were no staff the server would be in chaos and if there were no players there wouldn't be a server. The server wouldn't be able to function without any of them so they are equally important. 
(12) How would you rate your skills overall out of 10 (EX: Patience, response time, etc) -
Leadership Skills - 8 
Patience - 9
Honesty - 8
Helpfulness - 9.5
Communication - 9.5 
Response Time: 9.75
Willingness to improve / Ask for help - 9
Fairness - 9
(13.) If you do not know how to handle a situation in a mod-sit, what do you do? -
If I do not know what to do in a mod sit I would ask another online staff member. If there is no one online and it's just me first I would check the compendium and if it isn't stated there I would go to TeamSpeak to see if anyone else is online and finally if there isn't anyone online to deal with that issue I would tell them to make a forum post about it where they can get clarifications from someone familiar with those rule sets. The worst thing to do is pull a player tell them you don't know and leave it unresolved
(14.) You understand and realize, that by applying for staff on the server also means that you are sacrificing the complete freedom of being able to RP freely all the time without any interruptions, and are obligated to handle all server issues at hand no matter the situation? -
Yes, I understand that if I became staff I would have to handle sits instead of talking to friends or RPing. 
(15.) Please make a list of all previous staff applications, a link to them, and the reason they were locked. If they were accepted, please give a short explanation of why you are no longer staff. (Disregard if this is your first application) -
1st App: https://docs.google.com/document/d/16Gwj...sp=sharing (Was on the old forums but I have it here) (Was Accepted)
2nd App
https://starbystargaming.com/showthread.php?tid=1589 Locked (Requested By Me)
3rd App
https://starbystargaming.com/showthread?tid=2957 (Denied)
Why I am not staff anymore: The reason I am not staff anymore is because a year ago I got involved with staff manager drama that I shouldn't have gotten involved in the first place. I ended up taking it too far and became toxic about it which eventually lead to my demotion. Looking back at it, it was dumb of me to do and I regret it. I wish to move on from that version of me and want to be viewed as someone who can be trusted and someone who doesn't break rules and every day I try to improve. 
(can be discussed in PM's if needed)
Edit: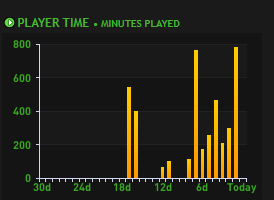 The part where it's blank is the time where I was on vacation. before that gap I was active every single day
Hogwarts Board Director, Hogwarts Overwatch, Ravenclaw Overwatch, Insidious Prefect, Dark Enchantress, Turq The Dragon, Zaros The Dragon, Minister Of Magic, Corrupted Overwatch, Hogwarts Legend, Warlock, Witch of The Forest, Hit Wizard Sinistra, Yogi, Daily Prophet, Improper Use Of Magic, Chopper, Dark Animagus Rogue, Wizengamot Justice, Heir Of Hufflepuff, Hogwarts Defender, Negri The Dragon, Masked Wonder, The Lone Auror, Cursed Soul, Jerome The House Elf, Dan The Ghost, Frost The Dragon, Magnificent Dread Mage

Owner of 
Heir Of Gryffindor
Time Traveler
Light Animagus Rogue
Expand Signature